Sabastopol Bluffs Overnight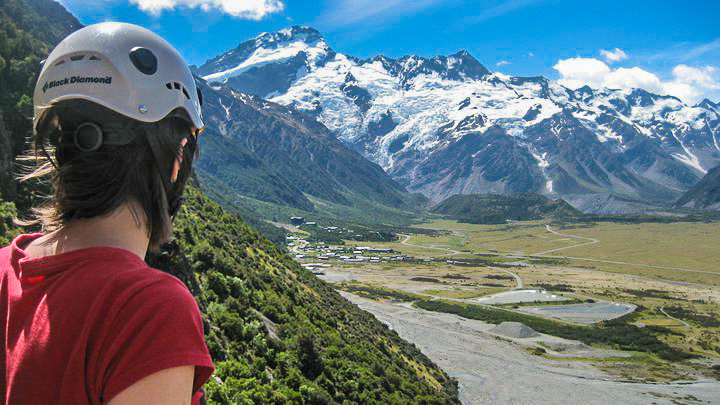 Trvanie: 2 Dní (cca.)
Poloha: Wanaka
Kód produktu: P8BP1F
Multi-pitch climbing in Aoraki/Mt Cook National Park.
Our Mt cook trips are 2 day climbing excursions with a night spent the NZAC Unwin hut in Mt Cook Village.
Mt Cook Village is a small alpine village at the base of the southern alps. This village is a starting point for all classic New Zealand mountaineering adventures. We climb on the Sebastopol Bluffs, situated above the village.
Itinerary for the Sebastopol Rock Trip:
Day One:
· Guests meet their guide at the Wanaka Rock Climbing office.
· Drive to the Mt Cook Village.
· Learn the multi-pitch system and climb the "Red Arete".
· Optional Evening hike up the Hooker Valley.
2. Day Two:
· Climb "Shark Attack".
· Optional climbing at the twin cracks crag.
· Drive back to Wanaka
What is included in the price.
· All rock climbing equipment
· All food (Vegetarian, Gluten free and Vegan options available)
· Accommodation cost at NZAC Homer Hut
· Any additional equipment needed
· Transport
ROUTE INFO:
"RED ARETE":
A great introduction to multi-pitch climbing, this route climbs 4 pitches of easy but enjoyable slab climbing on the very edge of the "Bluffs". Great views of Mt Sefton, the Footstool, Mt Wakefield and the Tasman Glacier.
4 pitches Grade 13.
"SHARK ATTACK":
This route is the second longest at Sebastopol Bluffs. Technical slab and face climbing on hard, red graywacke. Astounding mountain views and that classic multi-pitch "Are we are really UP here?" feeling make this route a must do!
6 pitches Grade 16